No. 130 – August 2022
6,90 € incl. VAT., excl. Shipping costs
The Life Ineyesight® Issue No. 130, August 2022 impresses with great topics and amusing reading material.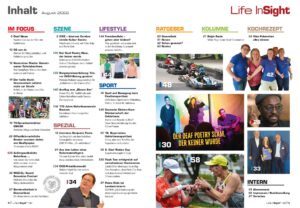 IN FOCUS
deaf news
News from the world of the deaf
O2 can do
Hotline for the hearing impaired and sign speakers
Generation Mask: Joint school leaving certificate
Paulinenpflege Winnenden celebrates for the first time since Corona
The Hot Seat: Ignorance is no defense against punishment
Criticism of the demo from 25.6. in Berlin
TV voice amplifier OSKAR
Perfect listening pleasure when watching TV
Public broadcasters knew nothing about Deaflympics
Failure at the DGSV
Exceptional Deaf…
that you probably didn't know about
that they are hearing impaired
MED-EL: Sound Sensation Festival
Hearing Aid Manufacturer Global Music Festival
Accessibility in Germany
EU Commission starts procedure
SCENE
ICKE – Curtiusstraße boarding school culture events
Music and comedy with Toby Käp and Boris Gott
The Deaf Poetry Slam that didn't happen
Successful ZAMMA Culture Festival Upper Bavaria
despite initial difficulties
Citizen award ceremony: Trier OK54 amount wins
Melanie Bohnert honored for "Deaf
in the Corona period"
Excursion to the "Blue Lake"
First trip for deafblind and usher affected people
after Corona forced break
110 years of the Bautzen Association for the Deaf
Great party for the big anniversary
SPECIAL
Interview Benjamin Piwko
Talking to the popular actor too
his ZDF TV film "You shall hear"
From the life of a chimney sweep
Vincent Kotzan about his education and the
first labor market
DGB presidency election
Helmut Vogel in office for another four years
LIFESTYLE
Loved by strangers – go or stay?
What happens when you get into the relationship
in love with someone else...
SPORTS
Fun and exercise at the family sports festival
Deaf sports club Oldenburg 1942 e. V
celebrates 80th anniversary
German electric kart championship for the deaf
Electricity instead of petrol in the blood? New challenge
for all drivers
16th Bavarian Deaf Sports Festival
Small but mighty! A festival of superlatives in Landshut
2nd Deaf Nation Cup
Bowling competitions in Graz
Flash Tom successful on different continents
Runner Eller superior at the Big Five marathon, the
Paris City Run and the Zermatt Matterhorn Ultramarathon
Petra Klein is the state coach
GSNRW announces appointment of former
known competitive athlete
COLUMN FROM RALPH RAULE
Wild days in the deaf community
COOKING RECIPE
What powders can do
COUNSELOR
BLESS YOU | TRAVEL | ALREADY KNEW? | RIGHT
PREVIEW
Preview topics for the next Life Ineyesight® Issue #131
Sport News: Petra Klein and Steffen Rosswig
You may also like…
6,90

€

incl. VAT., excl. Shipping costs

6,90

€

incl. VAT., excl. Shipping costs