#131 – Sept/Oct 2022
6,90 € incl. VAT., excl. Shipping costs
The Life Ineyesight® Issue #131, Sept/Oct 2022 impresses with great topics and amusing reading material.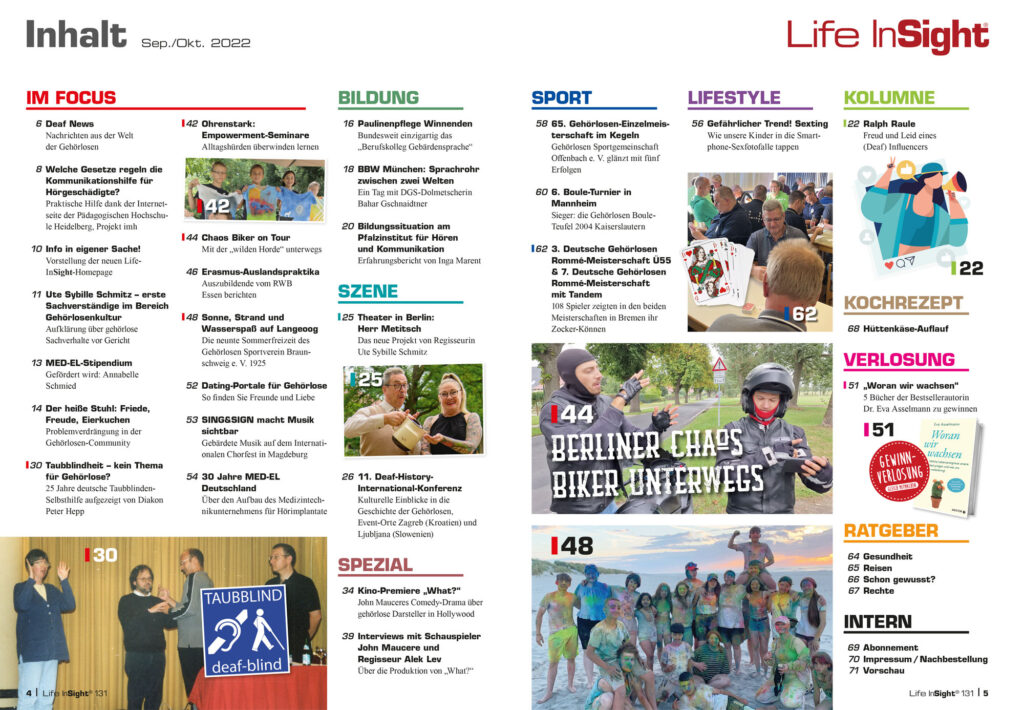 Life Ineyesight® Magazine #131, October 2022
IN FOCUS
deaf news
News from the world of the deaf
Which laws regulate the communication aid
for the hearing impaired?
Practical help thanks to the website of
Heidelberg University of Education, project imh
Info on your own behalf!
Presentation of the new Life Ineyesight-homepage
Ute Sybille Schmitz – first expert
in the field of deaf culture
Clarification of deaf facts in court
MED-EL Scholarship
Sponsored: Annabelle Schmied
The hot seat: peace, joy, pancakes
Problem repression in the deaf community
Deaf-blindness - not an issue for the deaf?
25 years of German deaf-blind self-help
demonstrated by Deacon Peter Hepp
Strong ears: Empowerment seminars
learn to overcome everyday obstacles
Chaos bikers on tour
On the road with the "wild horde".
Erasmus internships abroad
Trainees from RWB Essen report
Sun, beach and water fun on Langeoog
The ninth summer retreat of the deaf
Sports club Braunschweig e. V. 1925
Dating portals for the deaf
This is how you find friends and love
SING&SIGN makes music visible
Signed Music on the International
Choir festival in Magdeburg
30 years of MED-EL Germany
About the structure of the medical
technology company for hearing implants
TRAINING
Paulinenpflege Winnenden
The "vocational college sign language" is unique in Germany
BBW Munich: mouthpiece between two worlds
A day with DGS interpreter Bahar Gschnaidtner
Educational situation at the Palatinate Institute for Hearing and Communication
Field report by Inga Marent
SCENE
Theater in Berlin: Herr Metitsch
The new project by director Ute Sybille Schmitz
11th Deaf History International Conference
Cultural insights into the history of the deaf,
Event locations Zagreb (Croatia) and Ljubljana (Slovenia)
SPECIAL
Cinema premiere "What?"
John Maucere's comedy-drama about deaf performers in Hollywood
Interviews with actor John Maucere and director Alek Lev
About the production of "What?"
SPORTS
65th Deaf Individual Bowling Championship
Deaf sports community Offenbach e. V. shines with five successes
6th boules tournament in Mannheim
Winner: the Deaf Boule Devils 2004 Kaiserslautern
3rd German Deaf Rummy Championship Ü55 and
7th German Deaf Rummy Championship with tandem
108 players showed their gaming skills in the two championships in Bremen
LIFESTYLE
Dangerous trend! sexting 
How our children fall into the smartphone sex photo trap
COLUMN FROM RALPH RAULE
Joy and sorrow of a (deaf) influencer
COOKING RECIPE
Cottage Cheese Casserole
PRIZE DRAW
"Where we grow"
5 books by bestselling author Dr. to win Eva Asselmann
HISTORY
Appropriate text
COUNSELOR
VACCINATION | BLESS YOU | TRAVEL | ALREADY KNEW? | RIGHT
PREVIEW
Preview topics for the next Life Ineyesight® Issue #132
You may also like…
6,90

€

incl. VAT., excl. Shipping costs