No. 118 – February 2021
5,90 € incl. VAT., excl. Shipping costs
The Life Ineyesight® Magazine #118 for February 2021 impresses with great topics and amusing reading material.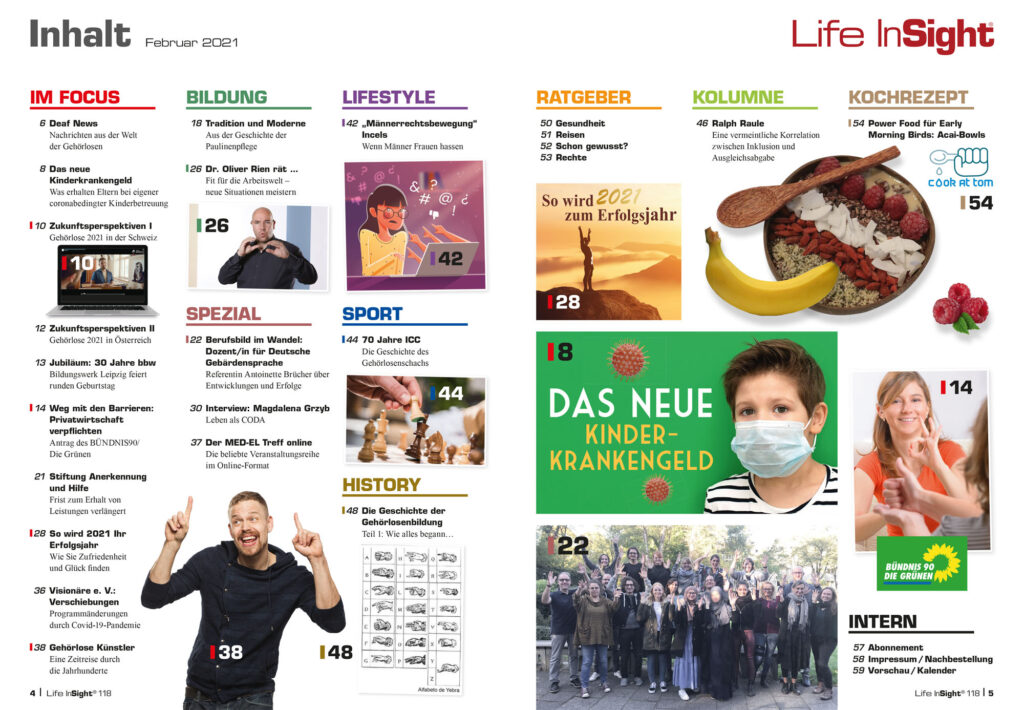 IN FOCUS
deaf news
News from the world of the deaf
The new child benefit
What do parents receive with their own corona-related childcare
Future prospects I
Deaf 2021 in Switzerland
Future prospects II
Deaf 2021 in Austria
Anniversary: 30 years BBW
Bildungswerk Leipzig celebrates a milestone birthday
Abolish the barriers: oblige the private sector
BÜNDNIS90/Die Grünen motion
Foundation Recognition and Help
Deadline to receive benefits extended
So 2021 will be your year of success
How to find contentment and happiness
visionaries e. V.: Shifts
Program changes due to the Covid-19 pandemic
Deaf Artists
A journey through the centuries
TRAINING
tradition and modernity
From the history of Paulinenpflege
dr Oliver Rien advises...
Fit for the world of work – mastering new situations
SPECIAL
Job profile in transition: Lecturer in German sign language
Speaker Antoinette Brücher on the developments and successes
Interview: Magdalena Grzyb
Life as CODA
The MED-EL meeting online
The popular series of events in online format
Roadshow with workshops and video competition
# whatmoves me continues in lockdown...
LIFESTYLE
"Men's Rights Movement" Incels
When men hate women
SPORTS
70 years of ICC
The History of Deaf Chess
COLUMN FROM RALPH RAULE
A supposed correlation between inclusion and compensatory levy
HISTORY
The History of Deaf Education
Part 1: How it all began...
COOKING RECIPE

BY TOM
Power food for early morning birds: acai bowls
PRIZE DRAW
Concorde film: Fear of Rain - The fear in you
There are 6 DVDs and 6 Blu-rays to win!
COUNSELOR
VACCINATION | HEALTH | TRAVEL | ALREADY KNEW? | RIGHT
PREVIEW
Preview topics for the next Life Ineyesight® Issue #119
You may also like…
5,90

€

incl. VAT., excl. Shipping costs

5,90

€

incl. VAT., excl. Shipping costs