No. 117, Dec./Jan. 2020/21
5,90 € incl. VAT., excl. Shipping costs
The Life Ineyesight® Magazine No. 117 – December 2020 / January 2021 impresses with great topics and amusing reading material.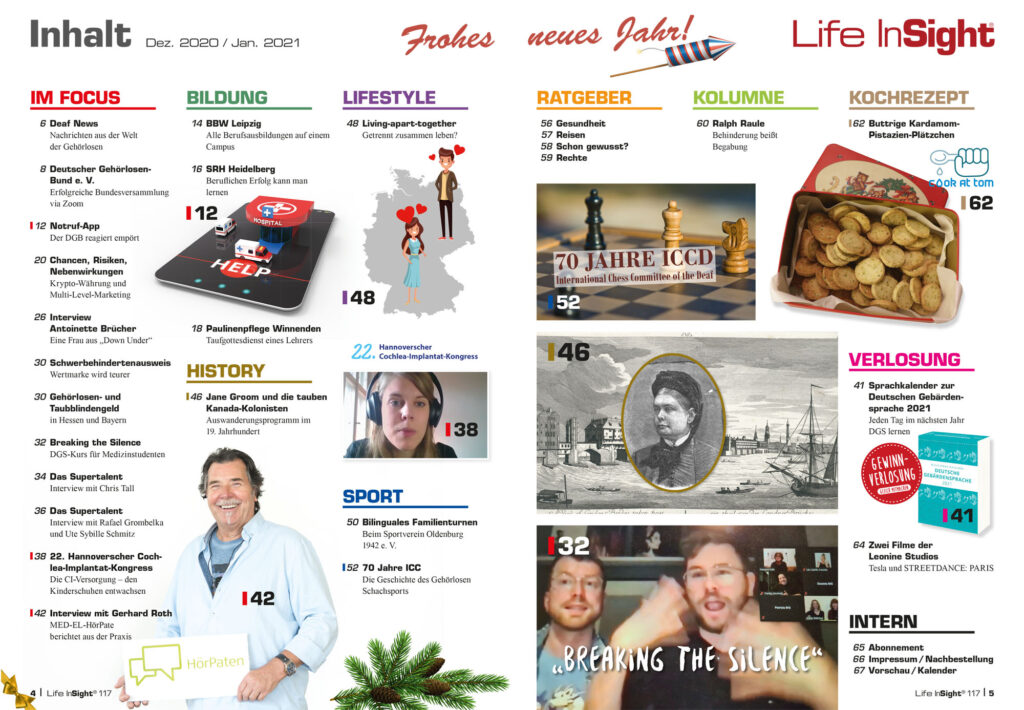 IN FOCUS
deaf news
News from the world of the deaf
German Deaf Association e. V
Successful Federal Assembly via Zoom
emergency app
The DGB reacted indignantly
Opportunities, risks, side effects
Cryptocurrency and Multi-Level Marketing
Interview with Antoinette Brücher
A woman from Down Under
severely handicapped pass
Token becomes more expensive
Deaf and deaf-blind allowance
in Hesse and Bavaria
Breaking the Silence
DGS course for medical students
The Super talent
Interview with Chris Tall
The Super talent
Interview with Rafael Grombelka and Ute Sybille Schmitz
22nd Hanoverian Cochlear Implant Congress
CI care – outgrown its infancy
Interview with Gerhard Roth
MED-EL-HörPate reports from practice
TRAINING
BBW Leipzig
All professional training courses on one campus
SRH Heidelberg
Professional success can be learned
Paulinenpflege Winnenden
All a teacher's baptismal service
LIFESTYLE
Living apart together
living apart together?
SPORTS
Bilingual family gymnastics
At the sports club Oldenburg 1942 e. V
70 years of ICC
The History of Deaf Chess
COLUMN FROM RALPH RAULE
Disability bites talent
COOKING RECIPE

BY TOM
Buttery Cardamom Pistachio Cookies
PRIZE DRAW
Language calendar for German sign language 2021
Learn DGS every day for the next year
Two films from Leonine Studios
Tesla and STREET DANCE: PARIS
HISTORY
Jane Groom and the Deaf Canada Colonists
Emigration program in the 19th century
COUNSELOR
VACCINATION | HEALTH | TRAVEL | ALREADY KNEW? | RIGHT
PREVIEW
- Preview topics for the next Life Ineyesight Issue 118
– Corona information from December 16, 2020
You may also like…
5,90

€

incl. VAT., excl. Shipping costs