No. 119 – March/April 2021
5,90 € incl. VAT., excl. Shipping costs
The Life Ineyesight® Magazine No. 119 for March/April 2021 impresses with great topics and amusing reading material.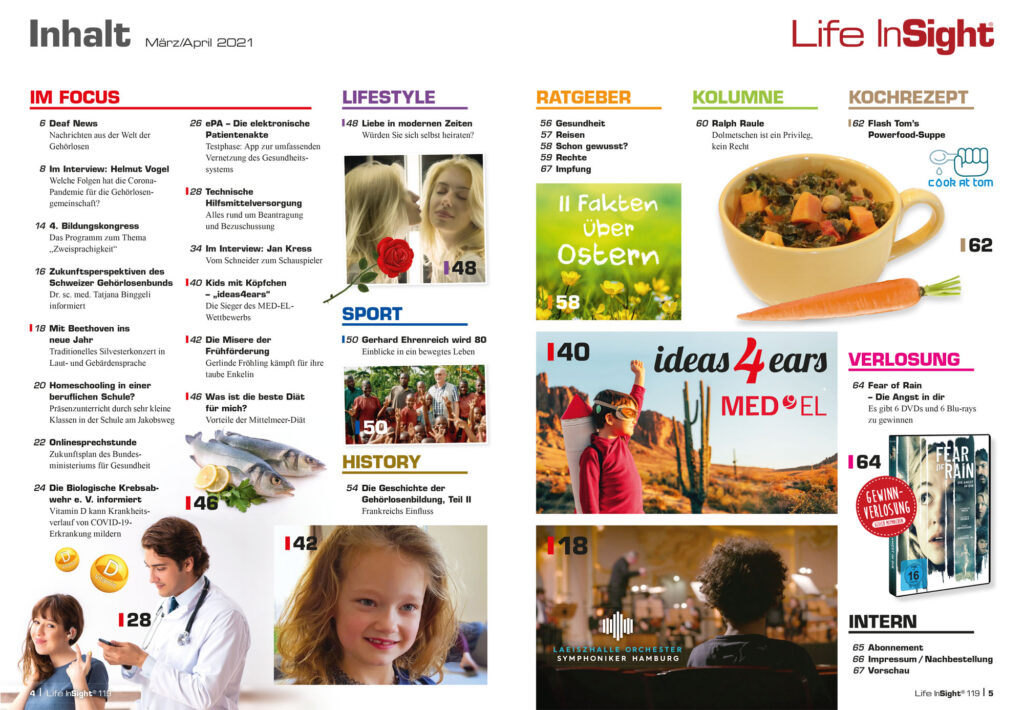 IN FOCUS
deaf news
News from the world of the deaf
In an interview: Helmut Vogel
What are the consequences of the corona pandemic for the deaf community?
4th Education Congress
The Bilingualism program
Future perspectives of the Swiss Federation of the Deaf
dr sc. med. Tatjana Binggeli informed
Into the new year with Beethoven
Traditional New Year's Eve concert in spoken and signed language
Homeschooling in a vocational school?
Face-to-face classes in very small classes at the Camino de Santiago school
online consultation hour
Future plan of the Federal Ministry of Health
The Biological Cancer Defense e. V. informed
Vitamin D can mitigate the course of COVID-19 disease
ePA - The electronic patient file
Test phase: App for comprehensive networking of the healthcare system
Technical aid supply
Everything to do with applications and subsidies
In an interview: Jan Kress
From tailor to actor
Smart kids – "ideas4ears"
The winners of the MED-EL competition
The plight of early intervention
Gerlinde Fröhling fights for her deaf granddaughter
What is the best diet for me?
Benefits of the Mediterranean Diet
LIFESTYLE
love in modern times
Would you marry yourself?
SPORTS
Gerhard Ehrenreich turns 80
Insights into an eventful life
COLUMN FROM RALPH RAULE
Interpreting is a privilege, not a right
HISTORY
The History of Deaf Education, Part II
France's influence
COOKING RECIPE

BY TOM
Flash Tom's - Powerfood Soup
PRIZE DRAW
Concorde film: Fear of Rain - The fear in you
There are 6 DVDs and 6 Blu-rays to win!
COUNSELOR
VACCINATION | HEALTH | TRAVEL | ALREADY KNEW? | RIGHT
PREVIEW
Preview topics for the next Life Ineyesight® Issue #120
You may also like…
5,90

€

incl. VAT., excl. Shipping costs

5,90

€

incl. VAT., excl. Shipping costs