No. 126 – February 2022
6,90 € incl. VAT., excl. Shipping costs
The Life Ineyesight® for February 2022 impresses with great topics and amusing reading material.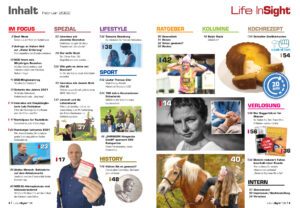 IN FOCUS
deaf news
News from the world of the deaf
Inquiry to Hubert Heil on the "Kieler Erkletction"
Statement of the Federal Minister
DGB celebrates its 95th anniversary¨our existence
Statement of solidarity and video message from President Helmut Vogel
DGB membership application
Become a sponsor!
birthetcrd of the year 2021
Choice of the Swiss Association of the Deaf: "Vaccination"
Interview with hospice attendant Lela Finkbeiner
about caring for the dying and being close to death
Emergency pass for deaf-blind people
Security in every situation
Hamburg Teaching Prize 2021
The award for outstanding performance goes to Stefan Goldschmidt
Aktion Mensch: Disabled people on the labor market
Even in the second Corona year, no all-clear
MED-EL-Huhimplants are life savingetcchanging
How CIs have impacted little Liam's life
SPECIAL
Interview with Jeanette Dümichen
Deaf fights for her dream job "educator"
heyßa chair
dr Oliver Rien: Throwing around terms...
How is Jette von Deetzen doing?
Fit for school thanks to speech-to-text interpreters
Interview with Jasmin Groh (Part 2)
What new jobs are there at BBW Munich?
Janosch and the art of living
Elbschule participates in the exhibition for the 90th birthday of the children's book author in sign language
LIFESTYLE
Toxic relationship
How to recognize vampire people
SPORTS
Letcshore Thomas Eller
Walt Disney World Marathon Weekend 2022
100 years Amsterdam Chess Club
Jubilee with European Chess Championship
"OHRWERK Hörgeräte GmbH" sponsors GSV cyclists
New company name, new sponsorship
COLUMN FROM RALPH RAULE
Happy?
COOKING RECIPE BY TOM
Quick eggnog cake
PRIZE DRAW
Six books will be raffled
The excavator operator for men. How to find your dream woman
Win six times: "Biotulin Supreme Skin Gel"
Biotulin reduces wrinkles within an hour
COUNSELOR
VACCINATION | HEALTH | TRAVEL | ALREADY KNEW? | RIGHT
PREVIEW
Preview topics for the next Life Ineyesight® Issue #127
You may also like…
6,90

€

incl. VAT., excl. Shipping costs

6,90

€

incl. VAT., excl. Shipping costs