No. 124 – November 2021
5,90 € incl. VAT., excl. Shipping costs
The Life Ineyesight® for November 2021 impresses with great topics and amusing reading material.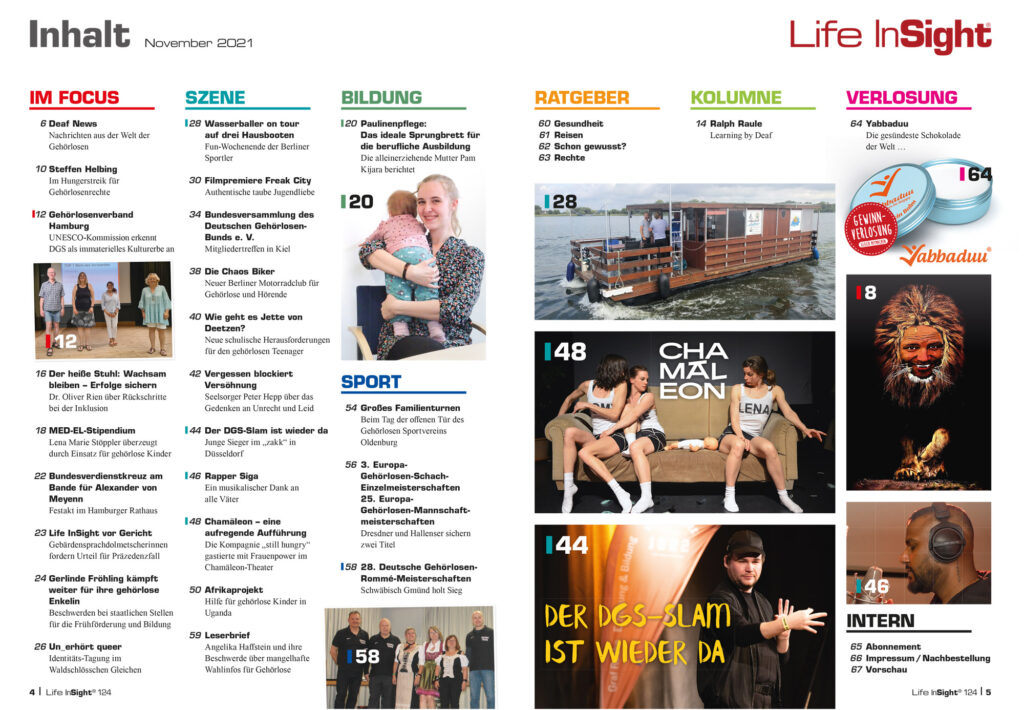 IN FOCUS
deaf news
News from the world of the deaf
Steffen Helbing
On hunger strike for deaf rights
Hamburg Deaf Association
UNESCO Commission recognizes DGS as intangible cultural heritage
The hot seat: stay alert – ensure success
dr Oliver Rien on backwards steps in inclusion
MED-EL Scholarship
Lena Marie Stöppler convinces with her commitment to deaf children
Federal Cross of Merit for Alexander von Meyenn
Ceremony in Hamburg City Hall
Life Insight in court
Sign language interpreters call for verdict on precedent
Gerlinde Fröhling continues to fight for her deaf granddaughter
Complaints to government bodies for early intervention and education
Outrageously queer
Identity conference in the Waldschlösschen Gleichen
SCENE
Water polo players on tour on three houseboats
Fun weekend for Berlin athletes
Film premiere Freak City
Authentic deaf teenage love
Federal Assembly of the German Deaf Association e. V
Members meeting in Kiel
The Chaos Bikers
New Berlin motorcycle club for the deaf and hearing
How is Jette von Deetzen doing?
New school challenges for the deaf teenager
Forgetting blocks reconciliation
Pastor Peter Hepp on remembering injustice and suffering
The DGS Slam is back
Young winners in the "zakk" in Düsseldorf
Rapper Siga
A musical thank you to all fathers
Chameleon - an exciting performance
The company "still hungry" made a guest appearance with girl power in the chameleon theater
Africa project
Help for deaf children in Uganda
letter to the editor
Angelika Haffstein and her complaint about the lack of election information for the deaf
TRAINING
Paulinenpflege: The ideal springboard for professional training
Single mom Pam Kijara reports
SPORTS
Big family gymnastics
At the open day of the deaf sports club Oldenburg
3rd European Deaf Chess Individual Championships
4. European Deaf Team Championships
Dresden and Halle secure two titles
28th German Deaf Rummy Championships
Schwäbisch Gmünd gets victory
COLUMN FROM RALPH RAULE
Learning by Deaf
PRIZE DRAW
Yabbaduu
Life Ineyesight gives away the healthiest chocolate in the world...
COUNSELOR
VACCINATION | BLESS YOU | TRAVEL | ALREADY KNEW? | RIGHT
PREVIEW
Preview topics for the next Life Ineyesight® Issue #125
You may also like…
5,90

€

incl. VAT., excl. Shipping costs

6,90

€

incl. VAT., excl. Shipping costs