No. 120 – May 2021
5,90 € incl. VAT., excl. Shipping costs
The Life Ineyesight® No. 120 for May 2021 impresses with great topics and amusing reading material.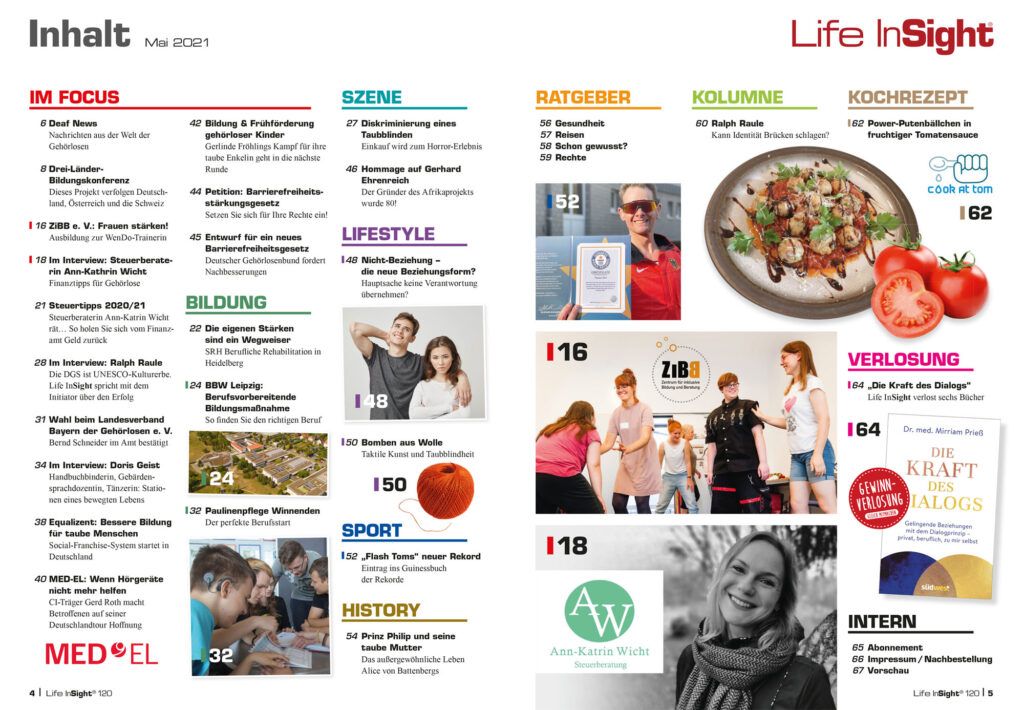 IN FOCUS
deaf news
News from the world of the deaf
Berlin donation miracle
Capital Deaf Center Saved!
Police call 110 in DGS
First crime series broadcast with German sign language
EUTB in NRW
Supplementary independent participation advice
The hot seat
dr Oliver Rien: Diversity in sign language
Alfred Baron GmbH: Top performers with DGS
A traditional company sees its deaf employees as key suppliers of success
Interview: Rolf Puttrich Reignard
Conversation about the dazzling Berlin deaf art scene and his brother Gunter Trube
MED-EL: Jannette from East Friesland
Path to the cochlear implant
Interview with Nadine von Deetzen
Hard fight for the inclusion of her deaf daughter Jette in the mainstream school
severely disabled pension:
Retire early?
vaccination card
Now also digital
TRAINING
Moin Moin from the North Sea coast
Accessible vocational training at the Theodor Schäfer Training Center in Husum
The car jobs
Training in Paulinenpflege in Winnenden
Start your career successfully
with the Nuremberg Vocational Training Center
IBAF technical school for the deaf: Learning together before and with Corona
Training information: Educator
LIFESTYLE
Gray Divorce
When partners separate in the last third of their lives
Draw your own sprouts
How to properly grow mung beans
SPORTS
Austrian deaf sport
Restart after Corona
COLUMN FROM RALPH RAULE
Netflyxology - how a streaming station changes our lives
HISTORY
Development of deaf education, part 3
Germany
COOKING RECIPE

BY TOM
Draw your own sprouts
How to properly grow mung beans
Insalata Caprese on three sprouts with strawberries
PRIZE DRAW
Life InSight is giving away six books
Come down and get over it – How to get angry less and don't give frustration a chance
COUNSELOR
VACCINATION | BLESS YOU | TRAVEL | ALREADY KNEW? | RIGHT
PREVIEW
Preview topics for the next Life Ineyesight® Issue #121
You may also like…
5,90

€

incl. VAT., excl. Shipping costs

5,90

€

incl. VAT., excl. Shipping costs